Do you need new ways to quickly & easily deep clean your home?
When you look at your dishwasher do you see a toy cleaner? When you reach for that packet of Kool-Aid do you see toilet bowl cleaner? With a little bit of ingenuity everyday, essential household items become the next great cleaning "hack".
We have "scoured" the internet and "scrubbed" the list to bring you the Top 21 Cleaning Hacks to help you deep clean your home. Some you may have heard of before such as washing your windows with newspaper. While some, such as cleaning your tub with vodka, may be mind-blowing in their out of the box randomness!

It may be one your favorite drinks but Kool-Aid is also the go to toilet bowl cleaner of cleaning gurus across America. Just pour in one packet, let it sit overnight, & flush in the morning!!

Don't have Kool-Aid? Two denture cleaning tablets or a can of Coke can also aid in keeping your toilet clean.

Clean that dusty air vent by wrapping a rag around a butter knife and sliding it back and forth between the vent slats.

After you've cleaned your air vents apply car wax to slow down the dust build up.

An oldie but goodie…

Use newspaper to clean your windows to cut through the grime & have a streak free shine.

Even the things in our kitchen that do the cleaning need to be cleaned.

Take your dishwasher, clean it by placing a cup of vinegar on the top rack & running.

Speaking of that dishwasher, use it to clean random household items from sponges to plastic toys to pet dishes to hairbrushes.

The things it can clean are endless.

Who among us has ever tried to clean the dust of our blinds to only discover how frustrating this chore is?

Just wrap two microfiber towels around a pair of tongs and wipe each slat.

Don't have microfiber towels? Use an old pair of socks.

Mold & mildew sucks but if you notice some you just need to grab some booze.

Cleaning experts recommend spraying down the affected area with vodka, let it sit for 10 minutes, and then clean normally – you'll notice a major difference in the amount of scrubbing power you need.

What about those lamp shades, throw pillows, & drapes?

Simple, run a lint roller over them and see how much dust & dirt you collect!

Disinfect all your sponges by microwaving them on high for one minute.

Got water stains? We got solutions!

Clean water stains on faucets & handles by rubbing them with half a lemon for clean and great smelling fixtures.

Don't have a lemon? No problem. A dryer sheet is the perfect tool to get rid of gunk & grime. Use it to polish any of your chrome surfaces.

A dryer sheet is also super handy in eliminating those hard water and residue buildups on your glass shower doors.

Just sprinkle it with a few drops of water and get to scrubbing.

Dab shaving cream on stubborn carpet stains, let it sit, and then wipe it away with a wet cloth.

Shaving cream can also be used on those pesky shower doors.

We all have those tight spaces that we just can't get our vacuum hose to reach, attach a condiment bottle lid (you know, the ones with the pointy spout) over your vacuum & voila you can now reach those hard to reach spaces.

Don't forget your garbage disposal.

To keep it clean, fresh, & sharp drop in half a lemon (cut into quarters), a handful of ice, and a little salt to neutralize any odors.

Remove water rings from a wood table by blasting it with the hot air of a hair dryer and then wiping the area with a little olive oil to recondition the wood.

For anold or large water ring this may need to be done more than once.

To get your shower heads sparkly clean, soak them overnight in distilled white vinegar.

Anyone else dislike the fibers left behind on your electronics after you dust them?

Use a coffee filter, they will clear the dust without leaving those pesky fibers behind.

Cleaning the ceiling fans seems to always create a bigger mess than we started with.

To keep the dust off you use a pillowcase…slip it over the fan blades and swipe them one at a time.

Steam clean your microwave.

Simply fill a microwave safe bowl with a few tablespoons of vinegar and a cup of hot water, run your microwave for a few minutes and wipe away the caked-on mess with ease.

To remove the dried up and burnt in grime in your oven use Windex, let is sit fora few minutes, and easily wipe it away.

For those every so annoying scuff marks on your floors. Lightly rub a clean, dry tennis ball and those marks are quickly erased.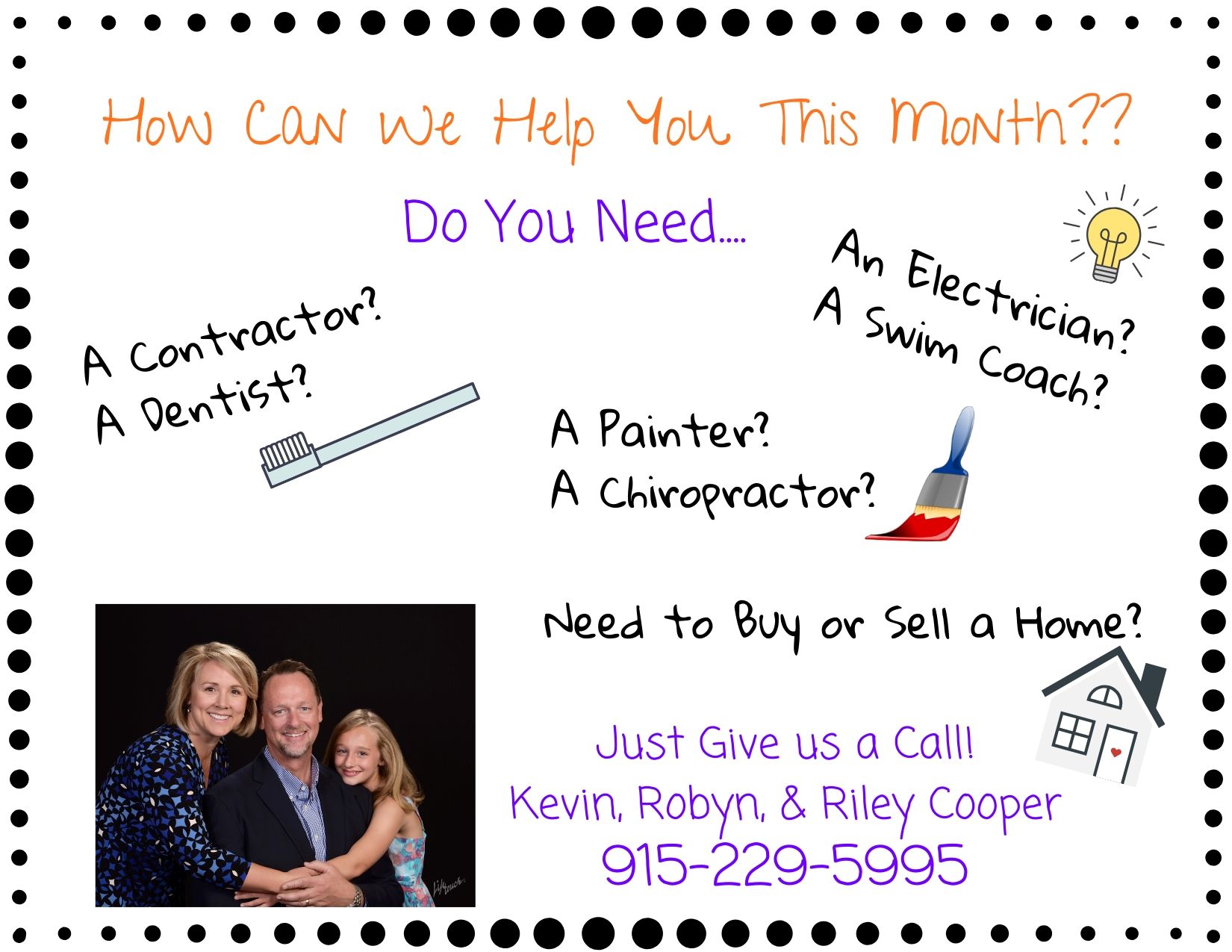 We Want To Be Your Resource!
We come across some of the best professionals in many areas who run their business at a very high level, just like us.
We would love to introduce you to someone great rather than you finding someone out of the blue in the yellow pages.
What can we do for you right now?
Who can we introduce you to that would be a benefit to you & your family?
Need help buying or selling? Give us a call!!
Robyn @ 915-229-5995 or Kevin @ 915-288-3925