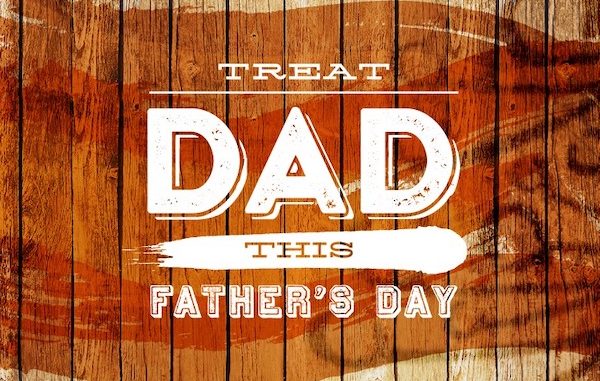 Your Dad deserves something truly special so don't even think about sticking to the usual Father's Day gifts but instead give your Dad the gift of time!!
Have A Game Day

Dust off your favorite games and break out the fun!! Play something silly or brainy or just plain ridiculous and enjoy the laughs & time with your kiddo!
Watch Movies

Make this Father's Day a movie night by screening Dad's favorite movies at home. Regardless of what you watch spending time together is the prize.
Go To A Water Park

What could be better on a hot June day than the cool, refreshing waters of a water park! And you're in luck…Wet N' Wild is open for business!
Play Video Games

If Dad loves playing video games, join him for a couple of hours of gaming!!
Go On A Picnic

There's no reason you have to have your Father's Day dinner inside. Head outdoors and enjoy a picnic in the backyard!
Go Camping

Why just celebrate dad for a day? Treat Dad to a whole weekend in a great outdoor getaway!!
Fire Up The Backyard Grill

There's now greater way to a Dad's heart than a "barbecue"! Treat dad to an extravagant backyard dinner. Go all out with ribs or top shelf steaks.
Visit A Virtual Zoo

While you may not be able to go on a Zoo visit today you can take a Virtual Zoo Trip!!
Zoos from our very own El Paso Zoo to Zoos across the world are offering Live Cams, Virtual Programming, & Educational Resources.
Plan A Fishing Trip

An "angler" Dad would love nothing better than to enjoy a local fishing hole with his kids!
Take A Weekend Road Trip

In the Heart of the Southwest El Paso is the best starting point for a weekend of celebrating Dad!
No matter what you do enjoy some quality time with your Dad and give him the best gift you can…you!