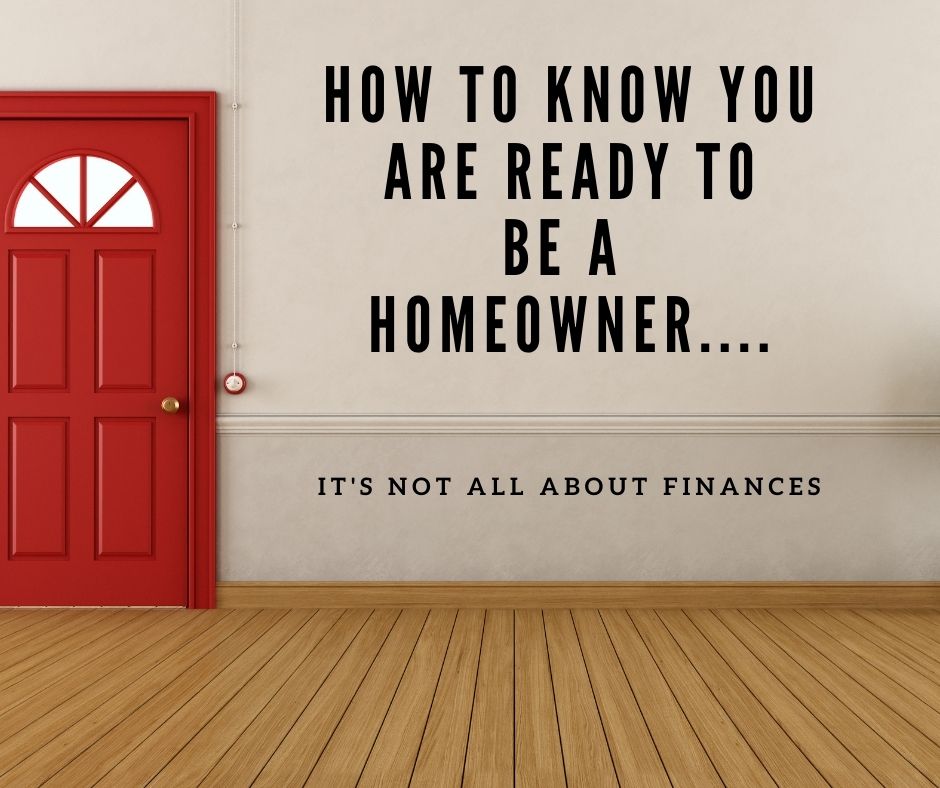 The age old question asked by anyone who rents their home is "Should I buy a home?" We all know that taking stock of our finances, credit scores, and cash reserves play a huge part in answering that question. What you may not know is that they are not the only factors that need to be considered.
Owning a home is a lifestyle change that you must be ready to take on. If you ask the average person why they want to buy a home few mention financial stability most relate to pride of ownership, being part of a neighborhood community, providing for their family, and being able to express themselves in their home.
Being mentally ready for all the obligations and changes that owning a home entails is just as important (and sometimes more important) than being financially ready.
Here are a few things you have to assess to determine if you are ready or not.
1. Maintenance & Upkeep
As a renter, when something breaks in your home the, fix is simple. All that is required is to pick up the phone and place a call to your property manager or landlord. They are responsible to bring in a plumber for that leaky sink or a technician for that broken A/C, etc., for making sure the repair is completed, and ensuring payment is made. When you are the homeowner, those repairs and fixes are your responsibility to not only take care of but also to pay for.
In a rental, especially an apartment, there are aspects of basic upkeep that the property manager or landlord is responsible for such as pest control, pool maintenance, and yard maintenance.
You have to decide if you are ready to shoulder home maintenance & upkeep. If the answer is a resounding "yes" this could indicate you are ready for home ownership.
2. Settling Down & Staying Put
Another point to consider is whether you are ready to settle down and stay put in one place for a few years. As renters, it's easy to move from city to city or neighborhood to neighborhood while deciding where you want to put down roots. As a homeowner you have to think about what to do with a home you will no longer be living in should you decide to move.
A home is an investment that is likely to increase in value the longer you own it. Experts recommend staying in your home a minimum of 3 years to not be upside down on your investment, however, staying put in your home for 7-10 years is even better.
Knowing that you are ready to settle and put down roots could mean that you are ready to transition from renter to homeowner.
3. DIY Fever
Are you a DIY junkie? Do you fantasize about paint color, upgrading your countertops, or that amazing bathroom remodel? As a renter you don't have much control over making changes to your home to make it "yours".
As a homeowner you can make your home more functional for you and your family. You have the freedom to change the space, knock out that wall, pull up that carpet, etc., that you don't have as a renter.
If your desire to design your space the way you want takes top place in your list of reasons why to become a homeowner then you might be ready to take that step.
4. Privacy
Renters, especially apartment dwellers, generally have to live with the constant noise of neighbors, whether that be arguing, loud music, footsteps above, or any number of sounds. Homeownership can give you the privacy, peace, and control over your own living space you so crave.
Plus, owning a home gives your kids (and fur-babies) a place of their own to roam, run, and play (without having to pay that extra pet fee).
When your craving for privacy outweighs living in a space with shared walls then becoming a homeowner might be just what you need.
5. Do You Want It To Be Yours
While you can make any rental space a cozy and welcoming home, the fact is, it's not yours. It belongs to someone else who allows you to live in their home (for a fee). This fact can weigh heavily on some people, especially when you factor in the money spent on something that does not belong to you.
You have more than likely heard the statement that buying is better than renting as "You need to invest in yourself not somebody else". The bottom line is that home ownership IS an investment in your future and should not be taken lightly.
Owning a home can give you a sense of security and stability. You will need to ask yourself the hard questions to determine if you are not only financially ready but also mentally ready to start the journey to home ownership.
Wading through all the thoughts and pieces of determining if you are ready to be a home owner and then knowing how to become a home owner can be daunting. Asking a professional for help is the perfect first step.
We believe that the best way to answer the question "Rent Vs Buy" is to diagnose if you are ready to become a homeowner. As Real Estate Consultants, our goal is to help and serve our clients, customers, and community. Give us a call today and let us help you.